Skip to main content
It looks like you're using Internet Explorer 11 or older. This website works best with modern browsers such as the latest versions of Chrome, Firefox, Safari, and Edge. If you continue with this browser, you may see unexpected results.
Resources for Transnational Adoptees Exploring Identity
In this section, you will find resources for adoptees interested in exploring identity. Included are resources primarily for transnational adoptees from Asia but many of these resources are also helpful to adoptees of any origin interested in who they are and what it means to be an adoptee. For more information about reunion trips and genealogical research, we recommend you check out those specific sections of this guide.
Podcasts
Adapted: Korean Adoptees Living in Korea and Beyond
Kaomi Goetz
This podcast explores the personal experiences and adoption journeys of Korean adoptees. Each episode features a different adoptee, sharing their story and how they came to be who they are now.
Adapted podcast logo from Adapted podcast official twitter
Haley Radke
This podcast features stories and conversations from different adoptees that touch on topics such as identity, belonging, and many more. This podcast is created and produced by an adoptee for adoptees struggling with understanding who they are and where they belong.
Adoptees On logo from Adoptees On official website
Code Switch: Transracial Adoptees on Their Racial Identity and Sense of Self
Gene Demby, N.P.R.
This episode of Code Switch includes the perspectives of several adoptees who were adopted into households of different racial, ethnic, or cultural backgrounds than themselves, and the experiences these adoptees had when forming their own identities and connecting to their birth cultures are discussed. The adoptees share that most of their adoptive parents lacked the training and awareness necessary to help them form their own racial identity in childhood.
Code Switch logo from NPR Code Switch official website
Transracial Adoptee Reflection
I speak openly about adoption because I think it's something that is part of me and nothing that I can change or hide at any point because that's just me.
—Lia, Adoptee interviewed in The Beat
Story Collections
Beneath the Mask: For Teen Adoptees: Teens and Young Adults Share Their Stories
Center for Adoption Support and Education
ISBN: 978-1722896829
An anthology of personal stories written by teen and young adult adoptees about their adoption journeys. Included are engaging exercises for readers to explore their own journeys.
Pieces of Me: Who Do I Want to Be
Robert L. Ballard (Editor)
ISBN: 9780972624442 0972624449
An anthology of 100 personal transnational/transracial adoptee pieces, including voices from people aged 11 to 63. Poems, stories, art, and more are included in this collection. Through different experiences, perspectives, and mediums, adoptees share what it means to be who they are.
Bibliographic Resources by Region
If you are looking for resources for adoptees exploring identity from specific countries or locations of origin, we provide a small selections below. This is by no means an exhaustive list. It is representative of only a small selection of many works for adoptees interested in exploring identity. Further reading is provided in the Media section of this guide.
Once They Hear My Name: Korean Adoptees and Their Journeys toward Identity
Ellen Lee, Marilyn Lammert, & Mary Ann Hess
ISBN: 9780979375644 0979375649 9780979375620 0979375622
This collection of oral histories features the lives and experiences of nine Korean adoptees. Struggles with identity, belonging, and family are explored through personal stories as well as challenges with racism, xenophobia, and feeling like a foreigner in native lands.
---
Nicole Chung
ISBN: 1911590308 9781911590309
In this memoir, Chung explores her identity as a transracial adoptee from Korea taken in by a White family in Oregon, USA. Chung writes about identity, race, family, motherhood, and her journey to uncover her true self.
From Home to Homeland: What Adoptive Families Need to Know Before Making a Return Trip to China
Debra Jacobs (Author), Iris Chin Ponte (Author), Leslie Kim Wang (Author)
ISBN: 978-1597430036
Though geared towards families making homeland trips to China, this is an overall great resource for any family considering a homeland trip and figuring out how to make sense of such a trip. Homeland trips provide adoptees with opportunities to develop a cohesive narrative of self and planning a homeland trip can be daunting but rewarding. This resource hopes to serve as a guide for navigating that process.
---
Ying Ying Fry, Amy Klatzkin, Brian Boyd, Terry M. Fry
ISBN: 0963847260 9780963847263
This first-person POV book tells the story of Fry's adoption from China, detailing her complex and personal feelings about the process as well as her struggles to understand who she is and reconcile that with where she came from and the caregivers she left behind.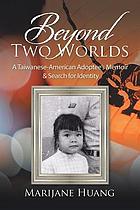 \
Beyond Two Worlds: A Taiwanese-American Adoptee's Memoir & Search For Identity
Marijane Huang
ISBN: 1524684104 9781524684105
This memoir tells the story of Marijane, a transnational adoptee born in Taipei, Taiwan but raised to believe she was Vietnamese and Japanese. She was adopted by an American military family and raised in the deep South, where she was often the only Asian face in a crowd. This story details Marijane's discovery of her true racial identity and her journey to reconnect with her birth family as she discovers more about her Taiwanese heritage and culture.