Skip to main content
It looks like you're using Internet Explorer 11 or older. This website works best with modern browsers such as the latest versions of Chrome, Firefox, Safari, and Edge. If you continue with this browser, you may see unexpected results.
Title
Lesson Plan: Ghosts
Resource: Ghosts by Raina Telgemeier
Age: 8-12
Areas: English, Cultural Competence
Summary: Cat isn't happy about leaving her friends for Bahía de la Luna, but her little sister Maya has cystic fibrosis and will benefit from the cool,
salty air that blows in from the sea. As the girls explore their new home, a neighbor lets them in on a secret: There are ghosts in Bahía de la Luna.
Lesson:
Halloween is a time for spooky scares, while El Di­a de los Muertos is a celebration of deceased loved ones — and an opportunity to see them again. What do you think these holidays mean to the people who celebrate them? Do you like being scared on Halloween? Who might you like to meet on El Di­a de los Muertos?

Moving to Bahia de la Luna reminds Cat and Maya's mother of traditions she once shared with their grandmother, and she tells her daughters about them. What family traditions do you have that have been passed down from previous generations? Have you ever explained a family tradition to someone outside your family?

The spirits of Bahia de la Luna help both Cat and Maya think through how they feel about the dead and about the possibility of dying. What do you think meeting the spirits means to Maya? How about to Cat?
Lesson Plan: Graphic Novel Text Analysis
Book: The Adventures of Tom Sawyer by Mark Twain
Ages: 9-12
Areas: English Language Arts, Reading Comprehension and Analysis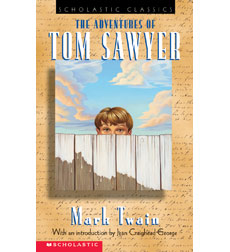 Summary: The Adventures of Tom Sawyer by Mark Twain is an 1876 novel about a young boy growing up along the Mississippi River. The story is set in the fictional town of St. Petersburg, inspired by Hannibal, Missouri, where Twain lived.
Lesson:
Have students select a chapter or adventure that Tom Sawyer embarks on and analyze the key points, dialogue, and character traits.

Using a template like the Comic Strip Planning Sheet, have students present their chosen scene in the form of a comic strip

Encourage the students to think carefully about which scene(s) they will feature, what the dialogue will be, and what details are necessary to get across the important parts of the story

Have students create their own art or use online comics creators like the ReadThinkWrite Comics Creator to illustrate their report

In pairs or small groups, have students share their comic book reports with fellow students. Students should discuss why they chose their specific scene, how they developed their comic strip idea, and the key points they wanted to illustrate.
Lesson Resources: A Guide to Using Graphic Novels with Childrens and Teens; ReadThinkWrite Comics and Graphic Novels